If you use a Motion Path with a camera, you can set the camera target by the path
and you can make smooth rotation of the camara view.

---
Basic of the motion path.



Select a object and a path(NURBS Curve)
Animate > Motion Paths > Attach to Motion Path
The keyframes are set by the start frame and the end frame value of Time Slider.



Go to a frame you want to add a keyframe.
Select the motion path, reverse U Value of motionPath1 in the Channel Box
with
Key Selected
A keyframe added.



Click the number of the keyframe,
select

Show Manipurator Tool, yellow

appears.
You can move this

with

You can edit the keyframes with the Graph Editor by selecting this curve.

---
the camera and the motion path
The plan of camera work is this:
View A,C,G,I of the box(1 - 30 frame),
fix view at E and the camera rotates around the box (31 - 60 frame).
Make a camera
Create
>
Cameras
>
Camera,Aim,and Up
In the Outliner camera1_aim and camera1_up are made.
Make a NURBS curve. The camera view moves according to the curve.
Select the curve and camera1_aim
Animate
>
Motion Paths
>
Attach to Motion Path
In the option window set
Start/End
value.
(In this case 1 30)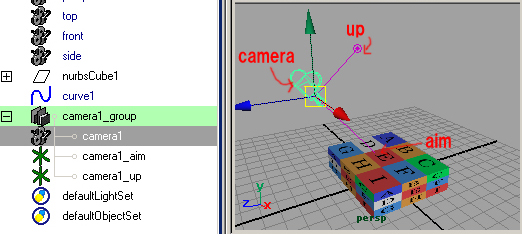 If you attach the camera_aim to a path, you will see the camera view is rolling.
To avoid this, adjust camera_up and set keyframes.
Make keyframes of camera position as usual.
(In the Perspective Window
panels
>
perspective
>
camera1
view
>
select camara
,
animate
>
set key
)
In frame 31 - 60, the camera1_aim is fixed to the end of curve,
rotate the camera around the box, set keyframes, adjust camera1_up to move the camera smoothly.
The camera work of this method.
Camera work made by a camera (no aim, no up)
(
Create
>
Camreras
>
Camera
)
You see that it is difficult to fix the view when camera rotates around the box.
Japanese article
Maya tutorials:camera work with a motion path